The Miracle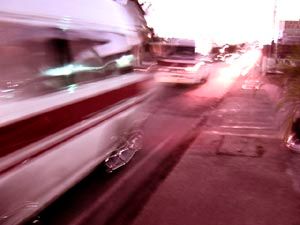 (Image: Evening on Eastern Main Road, Arouca)
Imagine you are standing on the widewalk of a busy street, watching cars and people rush by as you wait to cross. A bent old woman shuffles up next to you, staring straight ahead. All of a sudden, out of the blue,
something amazing happens!*
Your mouth drops open and you swiftly turn to face the old woman ...
You: Do you know who did that?
Old Woman (whispering):
I don't know. God knows.
You (leaning closer to hear her above the surrounding noise): What did you say?
Old Woman:
I don't say. God says.
You: Did you do it?
Old Woman:
I don't do. God does.
You: Are you God?
Old Woman:
I am not. God is.
* (..................................... )
- Happy Hippy -