Adventures with Angels (Pt 2)
The Angel Project continues today as I head out with Nicola (wing-maker) to shoot more spontaneous angel footage ...
ETD
(Estimated Time of Departure): 10:00 a.m.
EDD
(Estimated Direction of Driving): Do we head north, south, east or west? I feel either further east or south would be the best choices for today.
I still don't know exactly what this project is going to become. Thus far, from what I have edited, I see the unfolding of a beautiful, abstract, somewhat haunting tapestry of images ... seemingly disconnected ... but are they really? I believe in the creative power of random order ... Random images or words coming together in unplanned sequence, to form a story of their own.
Moving image sequences thus far ...
An Angel walks down the dirt track through a canefield ... she crouches foetus-like in the womb-shaped hollow of a massive tree, her white wings glowing against the dark bark as the sun forms a cross of light through the leaves above her ... she walks along the shoreline of the glassy ocean, looking for ... her reflection? ... another Angel? She sits in an old wooden boat, waiting ...
Where is this story going?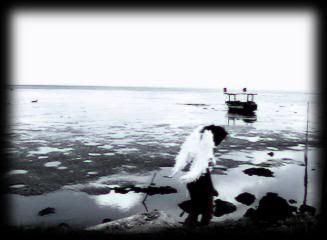 - Happy Hippy -