E is for ...
E

xamples of people getting my name wrong!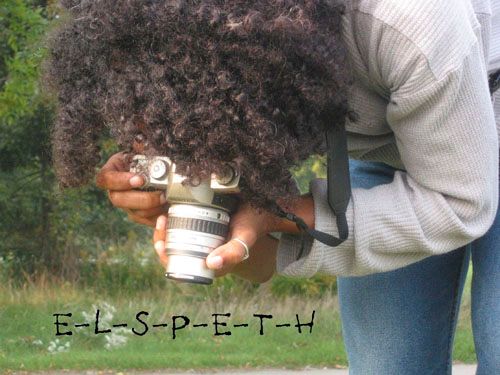 Photo by J.S.G., on the Islands (Toronto)
*
I have no idea why most people here have problems pronouncing a simple two syllable name.
Els - peth
. The range of bizarre variations I get is baffling to me: Lispet, Lesmit, Elizabeth, Lispet, Esspet, Elsapet ... the list goes on. Sometimes I introduce myself as "Spec" (my nickname since primary school) or leave messages with the operator where friends work like "Just say Spec called" - to avoid going through the hassle of repeatedly spelling my name. The 3 examples below will give an idea of what often transpires ...
*
Example #1
Yesterday I called someone to find out about a cheque I am to collect. She asked me for my name and the following conversation ensued ...
Her:
Can I have your first name, please?
Me:
Elspeth
Her:
What's that?! Spell, please?
Me:
E-L-S-P-E-T-H
Her:
Oh-oh-oh! Slow down! What was that?!
Me (slowly):
E-L-S-P ...
Her:
E-L-S-T ...
Me:
No,
P
... as in pineapple (
I always have to say this when I reach to the "T" part
)
Her:
Oh, P! Ahaaaaaaaaa ...
Me:
... E-T-H
Her:
Ok ... now exactly
how
do you pronounce that?
Me:
Elspeth
Her:
Ok ... Elsteth (
N.B. Still pronouncing it wrong
)
*
Example #2
When I came back from Canada on Sunday and opened my mail, there was a letter from BWee with a new BWee Miles card (since my other one was lost). My name on the card is spelt wrong (Elspbeth). The letter is also addressed to Elspbeth Duncan. To compound matters, the letter confidently begins:
Dear Mr. Duncan
...
*
Example #3
This one happened a long time ago, but I'll include it since I found it was a classic. I had called a friend of mine at his office and he was not there, so I left a message with the operator. The essence of the conversation was this ...
Me:
Can you just ask him to call Elspeth, please?
Her:
Esspet?
Me:
Elspeth
Her:
Oh, sorry. Lispet.
Me:
No, Elspeth. E-L-S-P-E-T-H.
Her (slowly):
E ... L ... what's next?
(I remember having to spell my name quite a few times before she eventually got it ... and when she finally did ... this part really threw me ...)
Her:
And what is
your
name?
(After all of that she thought that Elspeth was my business place and not my name!!! Perhaps the way I'd asked her to tell him to 'call Elspeth', not knowing that it was a person's name, she assumed it was a business. As if I had asked him to 'call Mario's' or ' call Courts Superstore').
*
Els
P
eth