A voice for the voiceless
This DVD is being sold in aid of the wild animals of W.O.R.C.
*
*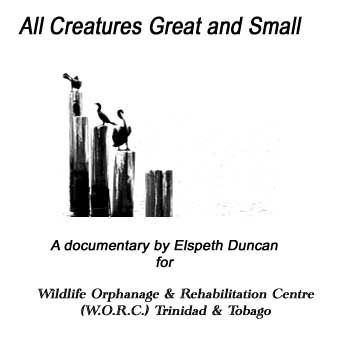 *
This educational and emotive ten-minute feature takes you behind the scenes to meet the wild animals currently in the care of Detta Buch, founder of
the Wildlife Orphanage & Rehabilitation Centre
(W.O.R.C.). Understand how you can be a part of their healing process.
Great for both children and adults.
*
Price $100TT (local sales)
Foreign orders: $20US (to include shipping).

All proceeds to W.O.R.C.

**
**
**
To purchase your copy or copies, please contact:
*
In your e-mail please include your name, contact information and the amount of copies you would like to order.
*
A photographic exhibition of the same name (All Creatures Great and Small) will be held in the first week of March by a group of photographers who have come together to raise money for W.O.R.C. Stay tuned for further details. In the mean time, visit this website (set up by Hakeeb Nandalal, one of the photographers), to view a few of the images which will be exhibited at the show. If you wish to purchase one of the photographs before the exhibition, please make contact as outlined on the website. To date, three sponsors (listed on the site) have already pledged to purchase a total of four photographs. We thank them for their support.

*

Elspeth