Step #5: Will you be my friend?
Here's where you come in. Normally at the end of each conversation I have with someone in
this project
, I get the person (based on what we have discussed) to come up with a new question to ask the next person. The question asked here (Will you be my friend?) came from 7 year old
Kajal
who was Step #4a. Because the 'being' featured here cannot ask questions (at least to our general understanding), I would appreciate it if each of you will ask a question at the end, after reading this. In the words of that slogan used by the
TTSPCA
:
We speak for those who cannot speak for themselves
. Your questions are what I will use as the foundation for the next conversation in this series ...
*
*
*
*
*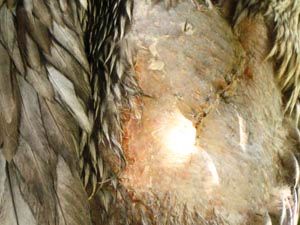 *
*
*
*
*
*
*
*
*
*
*
*
There once was a wing there. Those of you who follow up on the blog may recall my mention of
Lady the pelican
some days ago. She is the innocent 'being' I mentioned
yesterday
.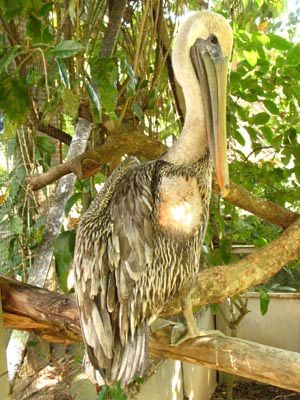 In Detta's back yard: Lady on her roost in the large cage which she shares with the short tailed hawk (also one-winged). Because she will never fly again, Lady will be trained to sit on someone's arm and will be used by Detta as an educational bird.
*
An extract from the 'log' written by
Detta Buch
:
Jan 20, 2006
By 6 p.m. we were all in the surgery room with the pelican on the examination table. The humerus was very badly shattered and a 4 - 5 inch length of the bone was projecting dried and blackened. The bird was very dehydrated.
*
Sadly both Dr. Pyke and myself reached the same conclusion, then we noticed the imploring look on the faces of the young couple. It seemed to dishonour their generosity and caring, having brought the animal from such a distance, with such difficulty, only to be told effectively, that they had wasted their time. I suggested that the only alternative, if it survived, was a life on the ground and be trained and handled for education. They offered to support it, so we proceeded to carry out the amputation, removing the wing from the shoulder. Dr. Pyke's surgery was impeccable ...

*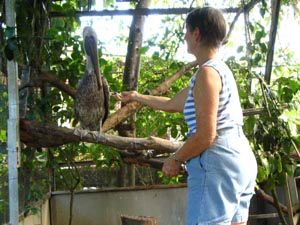 Detta handfeeds Lady with some Joshua (fish).
For the rest of her life, Lady will have to rely on humans for food.
*
You may wonder why I've put Lady at Step #5 and given her
Kajal's
question. The above photo indicates the care with which one has to approach this wild creature who, through no fault of her own, is suddenly required to live in 'captivity' (albeit caring captivity), interact closely with (and trust) humans - the very creatures who got her into this position. She does this with such grace. The first time we met, she allowed me to touch her feathers and stroke her head and neck. I've never touched a pelican before. She is a very gentle and brave bird... so soft ... and right under her skin are little air sacs that feel somewhat like poppy bubblewrap. This protects her when she dives (or used to).
*
If Lady could speak (humanese) she would perhaps ask us that very question:
Will you be my friend?
Clearly those who killed her companion and damaged her wing were not 'friends'. It's amazing that after all that happened to her, she can still sit in a cage in Petit Valley and allow herself to be touched by us. There are different ways in which we can be friends to Lady ... from something as simple as buying a few pounds of Joshua (small sardine-like fish) and carrying it for Detta in Petit Valley, to contribute to the bird's twice daily feeding requirements. For the rest of her life that's a lot of fish - and a lot of driving around to fish markets for Detta to do on her own. For more information on how you can help and support ... contact
Detta
.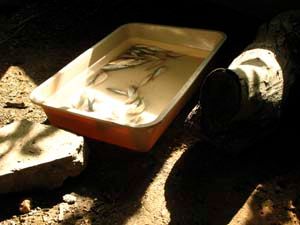 *
You may wonder where all of this is going. What does a Pelican with one wing have to do with Trinidad & Tobago, with the "Prime Minister", with politics, with national issues ... with us?
*
Please leave your questions/answers below.
*