Refreshing great way!
Hmmm ... (as with most mysteries, I suppose), the answer is not always immediate. I have not yet been able to tap into
the truth about the messages on KC dinner mint wrappers
. S.K. from KC did not call me back yesterday (as anticipated) and, when I called (thinking that she may have forgotten), the same woman who had answered before told me "I said she will call you." So I will leave it at that and wait on S.K. to return my call ... or, to phrase it in the words on one of the wrappers: "
Waiting for you
."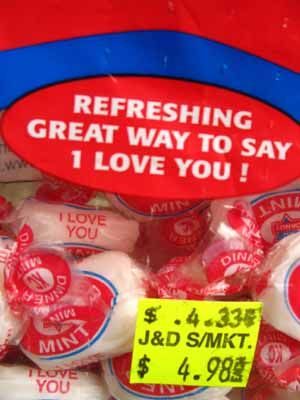 In the meantime, armed with my small bag of mints, I will carry out investigations behind the scenes (results to be featured in upcoming posts). The above photo indicates what is announced on the front of the KC dinner mints pack ... whilst the back of the pack states (
as though talking about one mint
):
KC DINNER MINT
(as opposed to 'mints')
HAS BEEN KNOWN INTERNATIONALLY FOR ITS GREAT MINT TASTE. LOVE NOTES ON THE WRAPPERS TO MAKE LIFE SWEETER.
Thus far people have been
recounting memories
of KC in their lives: from travelling wrappers ... to Valentine's Day wrappers ... to this-is-what-could-be-going-on-between-us-but-we're-not-brave-enough-to-voice-it-or-act-upon-it wrappers ... to innocent love wrappers ... to I-have-a-boner wrappers ... to prophetic wrappers ... and more.
Check them out and stay tuned. Whether S.K. calls back or not, I will make sure to find out who's behind those endearing little messages.
*