#31 - Bedtime story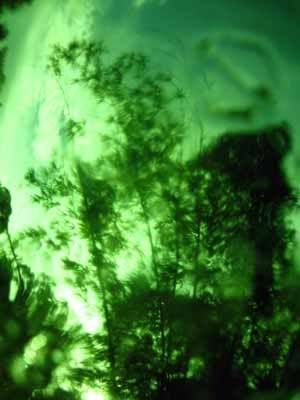 Once upon a time there was a deep green bottle which believed that its sole purpose in life was to contain Heineken beer. One day a man bought the bottle from a bar and took it to a
river lime
with his friends. While they cooked curry duck and dumplings and listened to loud Indian music, the man guzzled the Heineken from the green bottle ... until it was empty.
Being somewhat of a litterbug, the man tossed the bottle into the river where it hit a large stone and smashed apart. Lying there broken, the bottle believed that it had served its only purpose and would never be of use to anyone again. It was very unlikely that someone would even pick up its scattered fragments for recycling.
Over a period of time, the river washed the bits of bottle away ... that is, all except for the bottom of the bottle, which was lodged between two rocks. There it remained for a long time, gradually being smoothed to an almost flat green disc by the constantly flowing water.
One day recently I went to that river and noticed the bottom of the bottle on the river bed. I picked it up and looked through it like a filter with my camer-eye. Immediately the whole world was transformed into something beautiful.