Dona Nobis Pacem (Grant Us Peace)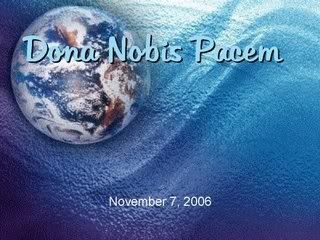 Yesterday I came across a simple and catching initiative: Dona Nobis Pacem. A blogger called Mimi is inviting fellow bloggers to "light up our beautiful blogosphere with Peace Globes from around the world" on November 7, 2006. She refers to it as a BLOGBLAST FOR PEACE. Read more about how to do it here ... and give it a go if so inclined.
Most of what I do creatively is interactive and I therefore love anything that invites interaction, especially for mass positive impact (seen or unseen). Dona Nobis Pacem has far reaching and powerful symbolic intentions. This world could do with a lot more Pacem!
I don't know how many of you are familiar with what a meme is. I don't think I'm the best person to describe it since I haven't done any memes in my almost two year life in the Blogosphere ... but to cut a long story short, when doing a meme, you can 'tag' other people - i.e. invite them to do the meme also. The Dona Nobis Pacem initiative is a 'meme' ... and (I don't know if they'll all see this, but) these are my 'tagees':