Drum busking duo takes Toronto by storm (includes video)
(Canada Chronicles continued ...)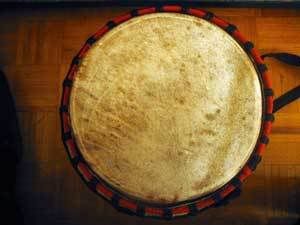 Inspired by Muhtadi,
working on the drumming documentary with Leda Serene Films
(
explore their website
) and the various classes and drum circles/jams I've been experiencing, I couldn't resist purchasing my 'gift' of a new drum at
Saikou's
drum shop.
Yesterday was a public holiday (
Vctoria Day
). J and I went drumming high up on the steps leading to
Casa Loma
. It was a scenic, quiet spot (so that we would not disturb residential dwellers). The first person to give us audience was an old jazz drummer from New Orleans with a name I have since forgotten. He sat and watched as we drummed, took a picture of us and told us that he knew Saikou (where our drums are from), Muhtadi and also Bill Trotman from Trinidad. After he left, several tourists on their way up to the landmark paused and took in our renditions.
Our first 'donation' of $1 from an Oriental fan

Luckily I had my hat with me. I put it on the ground before us as we drummed. Several tourists (mainly enthusiastic Chinese? Japanese? people with cameras) stopped and took photos near to us or posing directly with us. We were like a tourism spectacle.
We gave thanks to our contributors with drum rolls.

Within one and a half hours of impressing new fans with varied drum patterns, we made $1.91 CAD (The equivalent of a little over $10TT). Not much in the grand scheme of things, but the excitement of getting any money at all in the hat was enough to make our day. We're saving that money to put in the hat next time we go drum-busking (in a busier area this time). When money is in the hat other people will be more encouraged to add to our 'busking bank'.
(Below: short video clip of the experience)
Labels: drumming, experiences, toronto, youtube