What it looks like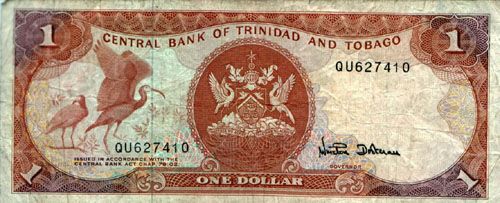 Anonymous/Question the Moment, this is what you were asking about yesterday - the dollar.
What can it buy these days?
3 or 4 dinnermints?
It's been a while since I bought doubles, so I don't know if they're still a dollar ... maybe $1.25 or $1.50
I don't even think a dollar can buy a pie.
It can no longer pay for a PH taxi ride up the road ... or a 'short drop'.
The only thing that I can think of a single dollar purchasing on its own these days is a few sweets.
Even one lime costs more than a dollar (unless you pick it from your own tree)!
As a child, getting a dollar from the tooth fairy was like getting gold. The other day I was talking to some little girls who get $100 and more per tooth.
As children we used to put on plays and invite the neighbourhood, charging an admission of 25 cents. Today a child would scoff at 25 dollars.
I suppose one dollar notes have to add up to make any sense.
*
One dollar notes are for change.
Symbols of change.
Like yesterday's transformation.
*
In other news: Shot more footage for Street Life yesterday.
*