Street Life: a video in progress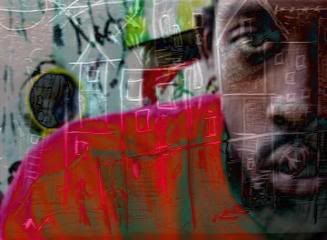 This is a still from the video Street Life which I am currently working on for hip hop artiste, Malik. I would say the video is 95% finished. There are just one or two scenes which I will tweak for more meaning.
(Just a little aside before ths post continues: forgot to mention - for those in Trinidad - I will be performing this afternoon from 5:30 p.m. at the Circle of Poets monthly show in the AV room of the National Museum. They have invited me to be their feature guest for today. I'll be crooning some of my tunes, showing two recent short video works, talking about the inspiration behind it all ... and of course there will be interactive experiences).
*
We did the bulk of the shooting last weekend on a backstreet we found downtown ... St. Paul Street (if I remember the name correctly). Quite fortuitiously, I went driving there one afternoon when we were looking for a "streetish" location. It looked perfect - narrow street lined with old houses and quaint buildings, very artistic and colourful graffiti (neatly and purposefully done, yet with a rough feel), no cars passing up and down, quaint bar at corner filled with old men, etc. But what drew me most was the quaint little wooden shop - very hippy - with a rainbow emblazoned across its entire front wall (in rasta colours) and the rest of the walls covered in bright painted flowers, birds, butterflies, etc. and positive words like PEACE, LOVE, UNITY, PROGRESS, HOPE, BLESS, etc. I tried shooting one or two scenes around there, but the afternoon was murky, the CD player wasn't working (to play the song so Malik could synch his lips to it) and it just didn't make sense to continue.
*
Went back the next weekend (me and Malik) and everything rolled smoothly. The bulk of the video takes place on that street (even though you don't really see the street in its entirety, because a lot of the shots are close ups). It's the kind of place that would have most people saying: "That's a rough area! I'm not going there!" But ... ironically ... it was like stepping back in time to a place that could have many people saying: "Oh, we wish Trinidad was like this again!" ... In other words, the words painted on the wooden rainbow shop reflect the feeling of that little backstreet ...
*
SOME OF THE MAIN THINGS THAT STRUCK US ABOUT THAT STREET
1. Old houses - charming, old, quaint, untouched by modernity. Yet ironically Riverside Plaza looms in the background with its glass body.
2. Community spirit - e.g. the charming old man, Carl, who runs a community school and teaches people in the neighbourhood (children and adults) reading and maths. He seems to be like the father of the "hood", chastizing even the roughest looking characters for walking in front of the camera. He got us electricity from a neighbouring house so we could run the extension for the CD player. He got us neighbourhood youths to help out with little things that we couldn't do whilst Malik was singing and I was filming.
3. Very friendly and curious people who got excited when they saw the camera, realised we were shooting a video and gathered around to watch and help in some way. This included Terry, an affable neighbourhood fixture, who was reeking of rum and made himself my assistant director (calling out directions to Malik along with me). And he was pretty good at it too, with an artful eye for framing shots.
4. The street dogs! These cute pothounds (started with one and grew to a small pack) who were not camera shy and managed to make themselves a part of the footage.
*
There was a lot more to that street ... something heartwarming and welcoming. We felt embraced by strangers. Had plans to go back and shoot more footage there, but may not be necessary.
*
- Elspeth -