Jesus (age 8)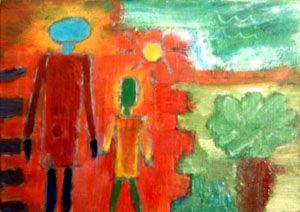 Acrylic on art hardboard, 5" x 7"
The fourth painting in my emerging series. So far none of the paintings seem to be consciously linked, but maybe after I've done a few I will see the story they tell. Somehow the halo effect around the heads of the mother and child in this one made me feel to call it "Jesus, age 8". Hmmm. This now makes me start to connect the dots ... Maybe it's here that the story starts to unfold ...
*
The
Little House on the Hill
(first painting) could be where this 8 year old Jesus lived. The
Solidarity painting
could be the throngs of people who listened to his messages and were drawn to him. The painting I called
Desert Women
could actually be something else. When Daddy saw it, he thought it looked like the three wise men. Someone else commented "The three magi." Maybe one of the 'untold parts' of the whole Jesus story was that there weren't only three wise men (who came to him when he was born), but also three wise women (who came to him later in life). At age 8? Why not?
*
Elspeth