Fourth and final Incarnation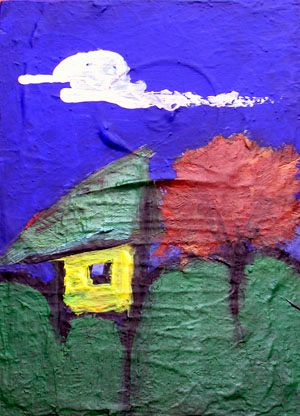 For some reason, this particular surface/'canvas' is the one that keeps getting recycled. This is its fourth incarnation.
1st Incarnation: Blurry chunky buildings of cityscape under red full moon (done with Q-tips)
2nd Incarnation
: Following advice of woman in artshop, cityscape adjusted by definitive lines being placed around the buildings, resulting in me changing the buildings entirely and not really liking the resulting colours, textures or shapes (painted with Q-tips again)
4th Incarnation: What you see above is the same house on the hill, but with one adjustment - the cloud above the house is different.
*