JAH is the only Judge
Well, last night the one I had asked to be the second judge decided to pass on it, so rather than ask someone else, I've decided to leave it all to
JAH
. In a symbolic and cosmic sense, I find this very powerful. From the beginning, Diva has had a strong spiritual element to her, especially with
her name also meaning "Goddess" in Italian
. I therefore find it amazing and fitting that
Jah
has chosen to officiate.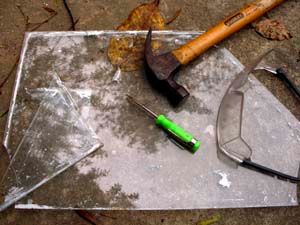 A photo from the day I had removed Diva's top pane.
Remember, the deadline has been extended to Wednesday 19th April, 2006 ... with winners to be announced on Friday 21st April, 2006.
Your poem to Diva can be submitted
in the comments section here
.
*
Labels: window lamps