Baptism and Blood
I kept getting the feeling that
Serendipity
should be washed in the sea and/or a river, as opposed to the tap in the garden at home (as with
Diva
).
Serendipity at Salybia
So on Saturday (8 July 2006) I took the window to Salybia for a washing (where the river meets the sea). My two sisters and nephew came along. When we arrived, there were some Baptists preparing to baptise a man in the river. Usually whenever I go to that spot, there's a baptism or some kind of spiritual offering taking place near the mouth of the river. I found it quite fitting that morning, seeing that I was going to 'baptise' the window as well.
Serendipity in the sea
After washing the window in the sea, I placed it in the river a little way off from where the baptism was taking place. At one point, it floated away from me and my video camera towards the baptismal area. I looked up and saw that the Baptists were gone, but there was an offering of bright yellow flowers floating in the path of the current that was pulling
Serendipity
.
Floating Serendipity casts a shadow on the river bed
Shortly after, I was talking to my sisters and standing with my foot on the window to hold it under the river water so that it would not float away. Suddenly I felt something sharp and realised that my foot had gone straight through one of the two panes of glass.
The pieces of broken pane resting on the whole pane.

Even though I had not intended to break that pane, I didn't fret over it. I feel it was meant to be broken (whether to be left empty, or whether I decide to replace it with a new pane of glass) ... in addition to which, the subsequent shedding of blood from my sole into the baptismal waters struck me as an interesting symbol.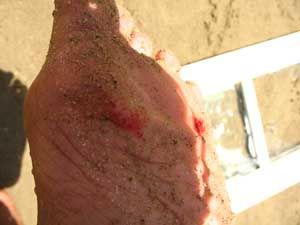 *
Labels: window lamps