Between the lines, read ...
Two days ago, the woman in the glass shop in Arima had said that Serendipity's missing glass pane could not be replaced without destroying the window, so I had decided to leave it as an open pane. However, yesterday when I went to Jaglal's in Arouca (where I usually go when I want glass scraps), I took Serendipity and showed it to Mr. Jaglal. He knocked off a few bits of putty which he described as "dis ting like rock" and then told me that it could be risky trying to put in a new pane since, with any hard knocking required to remove the old putty, the already existing pane could break.
"But leave it wit me. Leave it wit me," he said confidently. "Ah go do it fuh yuh."
It felt as though I was leaving Serendipity in the hands of a surgeon. But, since yesterday's post was about
Trust
, I trusted him with it.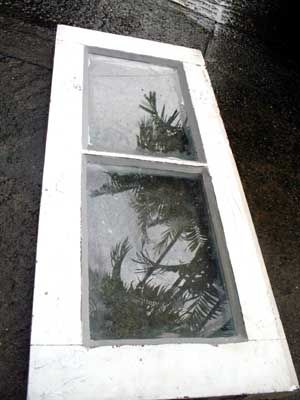 By two o'clock, I returned to collect Serendipity ... whole again with a shiny new glass pane and new putty. It's amazing how things happen on so many levels. What seems to be "just about a window" is not.
*
Labels: window lamps