The return of Haniel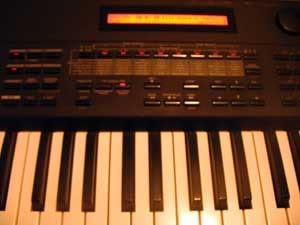 My faithful keyboard workstation has been with me for eight years. When I first got her, I named her
Haniel
, after an Archangel whom I had come across in my readings at the time. I was drawn to the name and its meaning echoed important things for me: the Archangel of Love and Harmony. Patron of artists.
Compared to previous years when I was at the keyboard every day, tinkering, composing, creating CDs and soundtracks ... this year I didn't do any music at all. Until late November when I picked up my guitar and ventured back into the studio, this year has been a musical desert.
Last weekend Haniel called out to me as I passed by. I plugged her in, turned her on and sat for a long time playing ... looking through the window at the clouds slowly changing shape, the birds flying in pairs and the rain, which had just started to fall. The music that was coming out felt like how that looked. They were very short pieces, each less than one minute long, reminding me of musical haikus ... or musical photographs of special moments and the feelings that accompany them. This month I'll spend more time with Haniel, re-establish our connection and see what comes of it.
*
Manifesting usually as a very beautiful woman, occasionally as an extremely handsome man, Haniel symbolizes beauty, pleasure, and sustaining friendship. Haniel has the power to make fruitful that which previously was not so: to turn states of sadness, anxiety and worry towards happiness. Haniel helps us to recognise and fill the gaps in our lives from within ourselves, rather than continuing to yearn to have them filled from the outside. Haniel inspires that which makes life worth living: friendship, love, companionship, harmony, and balance.
Haniel is associated with the rose, a symbol of the qualities of beauty, upliftment and unfoldment.Haniel is the Archangel of all powers of love and harmony and can help you bring those influences into your life. Brings Friends, Lovers, Peace, Love, Beauty, Grace, Good Things, Common Sense! He can also aid you in artistic matters.
(Source)