Happy Hippy Hero's Award 2006 judges (update)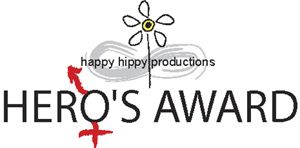 Those of you who read this blog regularly may remember Concerned Citizen, who felt that it was unfair that I knew the four judges and vice versa. I did not personally feel that this was 'unfair' (as I had chosen my judges based on their qualifications and integrity - not on the fact that I 'know' them). However, in the spirit of fairness, I still took the reader's concern into consideration by inviting other readers to suggest a fifth judge (... but what if I had known this person as well?)

Anyway, no-one suggested a fifth judge - except for Concerned Citizen who sent me an e-mail suggesting types of people who could be judges (nurse, teacher, etc.) but gave no specific name. I therefore did not pursue this further.
I put forth "Concerned Citizen's" concern to the judges, who unanimously decided that they did not see it as a problem that they knew me. They are not judging me, not giving me a prize, I am not personally nominating anyone and I am not doing this for personal gain.

As one judge put it via e-mail: To know us is necessary since you have to trust us to be fair and capable.

Another judge said via e-mail: I think we should just go as is ... the process is fair, and if you go forward into pleasing people, the idea may be lost. Just stay with what you had initially thought of.

Another judge said via e-mail: Once the process is transparent and can be shown to be so we good to go.

The nominations (5 in all) are now in the hands of the originally selected judges. The winner will be announced next week.