My name is TRENDSETTER
On Friday morning, minutes after jumping out of Mr. Lucky, I saw Trendsetter parked on St. John Road outside of a small community of houses. I dashed home for my camera and dictaphone, realising this would be my first interview.
After calling for a while by the gate, a woman in the house to the front looked out. I said I was looking for the maxi driver and she told me to shout out for Jason, who lived in the house to the back ...
This interview with Jason, driver of the red band maxi, Trendsetter, was a quickie, because I had caught him just as he was getting ready to go out. The maxi was named by its owner and, whereas Jason didn't know exactly what had inspired the name, I felt it was important to find out what it meant to him. After all, he is the "driving force" behind it once the maxi gets on the road.


Happy Hippy: What does the name Trendsetter on the maxi taxi mean to you?

Jason: Well, basically it means I set a trend. I is de setter. I set de trend on de road nah ... for everybody to follow de standard of my trend.

HH: Is that a trend in terms of how it looks or ... ?

J: Yeah, how it look - appearance, everyting.

HH: And what about the message at the back? Blessings Flow ...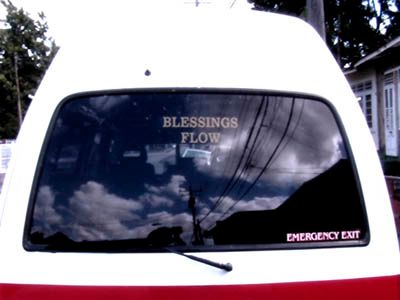 J: Ah blessin' everybody ... so you have to go wit de flow, den.

HH: Yeah, I like that.



Thank you, Jason and Trendsetter for that short but inspiring interview. Continue to set trends in appearance, safe and conscious driving and the spreading of blessings as you ply your daily route.
N.B. I noticed something interesting when I was reading this over. In the second to last line of the interview (Jason's final response), the way it's written (J: Ah blessin' everybody) - it looks like JAh blessin' everybody.
And, coming under the second image, it therefore reads: Blessings flow. Jah blessin' everybody ... so you have to go wit de flow, den.
Indeed!
Tune in for tomorrow's maxi: Does he use a halo for a steering wheel?
- Happy Hippy -