Twin Tapes: Transcriptions
It's interesting to see the different responses people wrote in the previous post.
Amazing how one phrase can be interpreted in so many ways.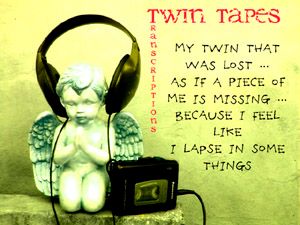 TUNE IN!
COMING SOON!
From tomorrow I will be posting daily transcribed versions of random people's responses to the statement (recorded with my dictaphone earlier in June). Like you, they did not know where the statement came from and what it really relates to, so their responses were influenced purely by their own thoughts, feelings and life experiences. In keeping with the way the project was developing at the time, I also asked each respondent to choose a colour that they felt fitted the statement.
*
The true story and more will be revealed after this series of transcriptions.
*