Two comments on Progress ... and a final thought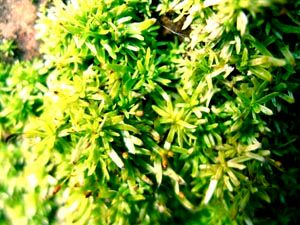 Down to the smallest part of our environment is 'home' for living organisms.
If one can't respect moss ... then what is 1,500 acres of virgin forest?
The first comment in
yesterday's post
brought up an important point about the hunter gatherer tribal peoples living in the Andaman islands (re the tsunami):
Relying on their knowledge of the movement of wind, sea, and birds, they had the good sense to heed the warning signs and head for the safety of high ground
. This speaks volumes. It's not a pity - it's a tragedy that those who are recklessly destroying nature in the name of progress don't realise that they are also destroying the umbilical cord that connects us to Mother Nature ... our own true natures. How easy is it to tune in and connect to our sixth sense/inner self/higher self/God amidst the modern, metallic, grating noises of pile drivers, excavators, trucks, traffic, loud music, loud voices, screaming newspaper headlines, graphic violence, televisions, radios, blimps? Stop the noise! We can't hear ourselves enough to know who we truly are. When I go into the country or mountainous areas to get away from what I've described above, I can feel the difference in the air. It becomes lighter and less cloying the further away I get from 'civilisation'. A skin peels away ... Lately, though, I've noticed that the sound of birds seems to be less, I see fewer butterflies, the trees look thin ...
*
The second commentor provided the lyrics for the calypso "Progress" by King Austin - definitely worth reading to see the truth that the old man has penned:
"... the price of progress is high, real high. I see consciousness abate, As today we live recklessly, Money makes egos inflate And thereby creates a turbulent state
." As I read those lyrics I thought of something my mechanic said to me the other day. The morning we spoke on the phone, I had arranged with a forester to go to Toco to get some video footage of Forestry Division felling a tree (I didn't go in the end due to rain and cancallation of the felling). My mechanic asked me why I wanted the footage and I told him I was working on a short video to make a particular environmental statement. He said: "Girl, I like what you're doing ... but people will just look at that and see entertainment. How many will actually get the message and do something?" I don't think he is being pessimistic or that he is trying to deter me. What he has said has truth to it. When I read Austin's lyrics I thought about what he had told me . I thought "Most people see this calypso as entertainment. How many of us really listen to such lyrics and question our actions or experience some shift in consciousness and behaviour?"
*
I don't think all is lost. Messages of awareness and positive energy are like drops of water on rock. The noise and chaos of modern civilisation is a tusnami ... which was once also just a drop.
*
Elspeth