Step #3: The moral of the story is ...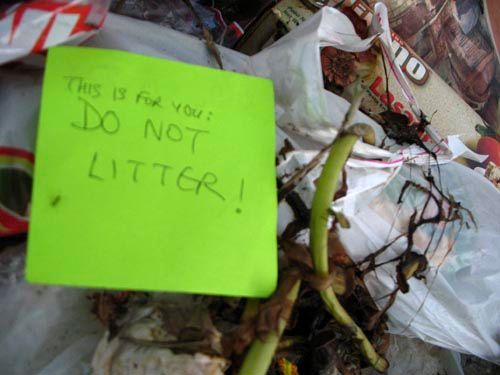 *
(Thank you, Christian Soul for your
comment left yesterday
. I have decided to copy my response here. Not everyone may read the comments or know of the recent discussions and perspectives that the
'Post Its'
have stirred, but ... but on deeper levels I feel these are things for
all of us
to think about ... "from de Prime Minister go down" as
Howie
would say).
*
*
Christian Soul, yes it could have been worse, but thankfully it wasn't. (Hopefully) we all learn and will continue to learn from 'mistakes' we make throughout life. Being human, we make all kinds of 'mistakes' daily. Some we don't even know about because we just don't understand how our simple actions or statements affect someone until/unless that person points it out. I apologised to the man and to his bosses and I admitted to myself and publicly that I had learnt something from the particular situation.
*
I am also learning a lot from all of these comments and discussions around the 'Post Its' and the many thought provoking topics they have raised. Maybe we have all learnt something from this(about ourselves, about others, about perspectives?) ... and maybe not.
*
It's easy to look at someone else and say "You shouldn't have done that because it was wrong" or "you almost caused this bad thing to happen because of what you did" ... and even easier to not look at oneself (log in the eye concept) and ask what simple, unwitting thing you might have done that could have affected (or is affecting) someone else around you. That simple bad drive almost costing a life or causing an accident? (Just an example).
*
It is easy for people to speak out to me about putting 'positive' (subject to interpretation) Post Its in public places ... and not speak out to the person who throws garbage out of the car window, casually places a beer bottle in the drain when the dustbin is right there, breaks a major road or red light ... and blatantly continues to do careless and unthinking things that have become 'acceptable' simply because we are in TT and we take it all for granted that "da's de way it is". As long as we continue to think that way, "da's de way it go always be."
*
What do we speak out against? What do we speak up for? Post Its?
*
Once two or more people are gathered around any issue, different perspectives will always rear their heads - not for the purpose of creating disharmony, but for the purpose of giving us the opportunity to see where someone else is coming from, stop to think and understand and step out of our own (often) limited self-vision and to learn and grow together in some way from the situation.
*
One thing: I don't fully grasp what you mean by your statement: "sometimes I wonder how far you would go to express yourself onto others". Are you referring to me specifically?
*
You ended by saying: "ya might need to rethink what you do when you venture out of your own country. that situation could have been worst" ... What you've said goes beyond the (I think by now) worn out example of me and the Post Its. You've said something true about our culture and the way people are. Someone may not think about what they do when they are here because they don't have to! Who will do or say anything about it? Tossing rubbish anywhere but the bin, driving crazy, pushing in lines, rudeness to others, etc ... but they are on p's and q's in "a big country", lining up civilly, waiting patiently, responding politely ... etc. Granted, the reason for some of this is the more stringent laws of the land, but ...
*
Conclusion: I think the Post Its have merely brought up much deeper and more serious issues that we all need to look at and think about ... in ourselves first. This brings me back to the whole point behind the 'Steps' project.
*