Stick 'em up
When I was in London in December, something I did almost caused an innocent cab driver to get sent to the police. I'm telling you this since the issue of "different perspectives" has been coming up lately. The example with the cab driver is sad ... and, whilst I understand the circumstances, I cannot help but laugh in disbelief.
*
I had started a spontaneous Post-It project when I was in Toronto in October. I would leave positive messages written on
Post-It notes
whenever I rode on the subway, trams, went through a turnstile, was in public toilets, etc. Each message would begin with the words: "
This is for you
:" - to make it seem more personal and specific to the person who found it.
(N.B. Perception: By sticking Post-Its in public places am I littering or uplifting random strangers with positive notes?)
I felt that these messages 'out of the blue' in public places would brighten someone's day, offer guidance just when they needed it, inspire them, etc. Once I was on a tram with my friend J and I stuck a Post-It on the tram seat in front of us so we could observe the person who found it. The note simply said: "
This is for you:
Tonight is a magical night. Don't miss it
!" Eventually a couple came and sat in that pair of seats. The way the girl's face lit up when she saw the Post-It note was priceless. Her mouth flew open (and remained open for quite a while). She detached the note, showed it to her boyfriend (who looked equally happy about it), then read it again and put it carefully in her handbag as a keepsake. When they got off the tram they were still smiling.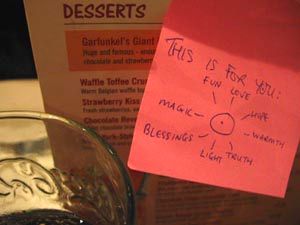 A post it note left on the menu card at Garfunkel's in Leicester Square, London

There is pleasure in leaving these notes for random people to find. It's different doing it in TT, because I drive a car and rarely take public transport. So I leave Post-It notes in other places - like on the ABM machine after withdrawing cash, in public toilet stalls, on a random product in the supermarket, etc. It has to be done very quickly and surreptitiously so no-one sees.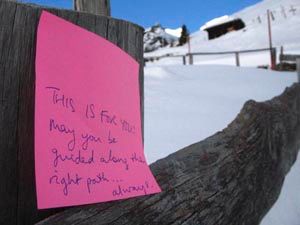 This Post-It note left on a snowy trail in Switzerland says:
This is for you: may you be guided along the right path always.

This post is getting quite long ... and the London cab driver story deserves a page of its own, so I'll continue that story tomorrow ... but will leave you with two more Post-It photos.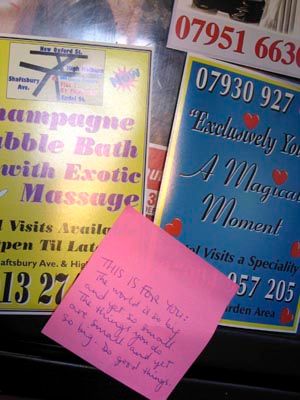 This Post-It note stuck in a London phonebooth says "This is for you: The world is so big and yet so small. The things you do are small and yet so big. Do good things." When I looked at the photo afterwards, I realised how a perfectly innocent message could be interpreted very differently because of where it is placed. Note the 'Exotic Massage' and 'Exclusively for you Magical Moment' sex ads in the background. "So small and yet so big ..." might mean something else to an eager male customer.
*
This man on the London underground was so deep in thought that he never noticed the fluorescent pink Post-It stuck to his right. Unlike the Toronto transport system, which was so clean that the Post-Its stood out, the London underground had more clutter to it. More strategic placement was required.
*
Friends in Toronto and London have been continuing the project.
Why not try it yourself?
*
Elspeth