Red, Six, Watch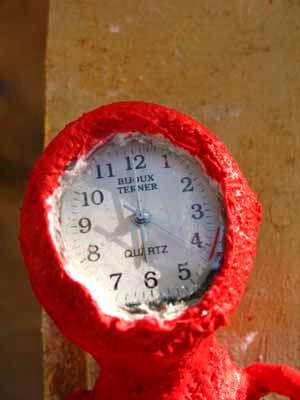 The face when it had just been completed.
The visible plaster remnants need to be scraped off.
*
Rebirth, Power, Purpose, Passion, Grounding.
Energy of Fire.
Fuel for the Journey to be made, the Work to be done.
*
Dawn ... six a.m. ... the point between dark and light.
Twilight ... six p.m. ... the point between light and dark.
A magical time.
Sixth sense.
Six blessings:
1. The blessing of Balance.
2. The blessing of Dreams.
3. The blessing of Intuition.
4. The blessing of Love.
5. The blessing of Gratitude.
6. The blessing of _________.
Message: when the lamp light is on at 6 a.m. or 6 p.m. the blessings are most intensely projected(for a heightened period of six minutes).
*
To watch over as Guardian.
To watch out for as Guide.
Watching over your outer.
Watching over inside.
*
Elspeth
Labels: window lamps