Mistah Macho
At the request of Glasshermitage
yesterday
to hear Mistah Macho, and while Carnival is still fresh in the air, I'll go back in time to the Mistah Macho stint. I have it on cassette, so will have to dig it up. My friend in Switzerland (Co) has the original on DAT tape. Looking back, it was a hilarious venture. Considering we are not really soca artistes and were just doing this for fun, it was a 'tame' piece, especially compared to the high speed jump and wave menu of today.
Just a recap: the name of the band was
Spec & Co
(Spec being my nickname and Co being short for Corina, my Swiss friend - but also short for the word "Company", thereby also embracing the other band members).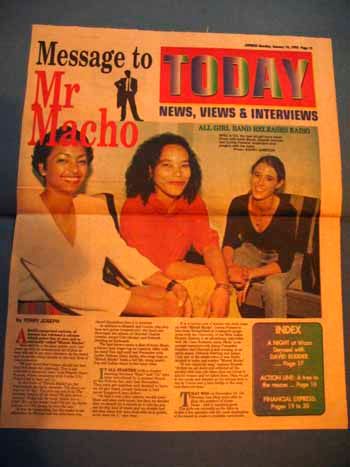 (l. to r.) Anita, me, Corina at the Express for an interview. We were highly amused. I look like I'm trying to stifle a giggle as Anita probably mumbles some comment through her teeth whilst smiling and Co chuckles in the background.
N.B. My scanner doesn't seem to be working - so I had to take shots of the articles and photos

.
Mistah Macho
was a kind of spoof or joke, based on/dedicated to men who think they're "it", are always trying to impress women and feel that sooting (Psssssssssst) is the way to attract women's attention (sometimes making fools of themselves in the process). The band consisted of me (bass), Co (vocals/guitar), Jackie (drums), Deborah (guitar), Anita (lead vocals) and Crystal (vocals ... she was actually training to be an opera singer). Whilst Anita sang the main parts, Co did the talking part in her Swiss accent and was also the 'target' when an orchestrated 'male fan' (Mark, a friend of Anita's) would run up on stage at every performance and wine on her, as if out of the blue. The audience would inevitably scream with delight when they saw Mark, thinking he was a stranger going to wine on 'the Swiss girl'.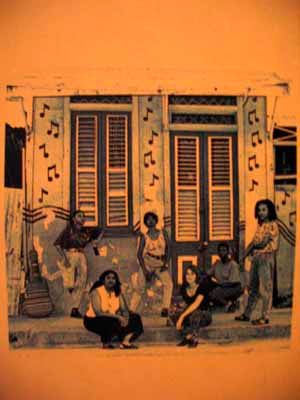 From one of our 'photo shoots' done by friend/photographer, Marlon Rouse.
Even though each of us played our respective instruments (bass, drums, guitar, etc.) in other bands or other situations, we didn't actually play or take instruments on stage when we performed Mistah Macho. Thre rest of us would sing back up and we used one of those backing tracks playing the instrumentals (what we had composed) which had been put together on keyboard by arranger Ken "Booker" Hutchison (a musician friend of Crystal's) at Diron Studio.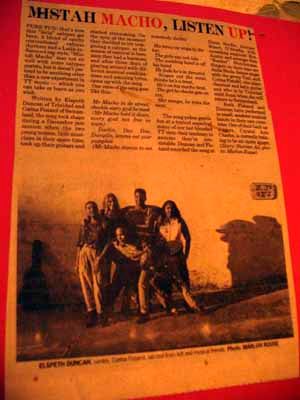 Another article that had come out at the time.
The calypsonian Crazy had heard our song and wanted to put it on a compilation disc he was putting together with calypsos, kaiso, etc. from that year. Nothing ever came of it.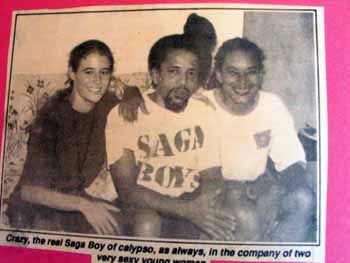 One day Co and I were over at Crazy's apartment and there was a photographer there. The surprising (if not amusing) result was this photo in one of the weeklies with (ironically) a very "Mr. Macho-ish" caption:
Crazy, the real saga boy of Calypso, as always, in the company of two very sexy young women.
*

Below are the lyrics:
Mistah Macho

By Spec & Co.

(Singing part):
See him in de party, checkin' everybody (Mr Macho checkin', while he discothequin')
Posin' in he dan dan, feeling such a sweet man (Mr Macho posin', Mr Macho cruisin')

(Talking part):
Tall and slim, he walks in with a Mr Macho grin
Girls look at him, he thinks he'll win, he starts to wine and spin.
Starts to flirt with a mini skirt: "Hey babe, my name is Kurt!"
He think he's cool, but he's a fool, 'cause posing is his rule.

(Singing part):
Tries to make the women high by showing off his butterfly
(butterfly
*
is gone now, butterfly is over)
He singin in de wrong key and soundin' like a donkey
*
(No donkey! No more donkey!)

CHORUS:
So hear how Mr Macho goes:
With a pss pss here and a pss pss there
Here a pss, there a pss
Everywhere a pss pss
Look a chick, wuk it up, Mr. Macho hard up
Aha wacko macho, aha Mr. Macho

(Singing part):
Mr Macho in de street, checkin every gyal he meet
(Mr. Macho hold it dong, every girl not free in town)
Dahlin, Doo Doo, Dumplin, lemme eat your pumkin
(Mr Macho starvin' to eat somebody dahlin')

(Talking part):
His fancy car stops by the bar, the girls say "Ooh la la!"
The wedding band is off his hand, he feels he's in demand.
Scopes out the meat, thinks he's a treat, he's on his macho beat.
The girl he checks get on vex, she scheups, he try de next.

(Singing part):
He sees a girl who's nicer, he tryin' to entice her
(Mr. Macho sleazy, dis girl not so easy)
With a cocktail dat he bought her, he dunno she's he daughter
(Mr Macho checkin' even he own offspring)

CHORUS: So hear how Mr Macho goes …

Mr.Macho take it light, that girl won't be yours tonight.
Aha wacko Macho, aha Mr Macho …

*
*

Butterfly was a song and a dance at the time ... and Whoa Donkey was a kaiso song by those 'sisters' (Singing Sandra, etc.)
Tomorrow: Reminder/invitation!
Day after tomorrow: Return to the lamp. Over this long weekend I did some more work (and videos) on Diva. She is coming along in very interesting ways! In fact, after watching Peter Minshall's simple/genius band yesterday, I was happy to see that he opened the performance with a tall, otherworldly, elegant character moving across the stage holding a silver heart and named ... the Heavenly Diva. The announcers kept talking about "The Diva" and I thought of the window lamp each time. Cosmic collaboration.