A Wish Come True ... and a trip to Bush Bush
There is a house in the Nariva area which I am drawn to every time I do the Manzanilla/Nariva/Mayaro drive. Each time I pass by I wish I could relax in one of the hammocks hanging under the house. Last time I was in that area (when I went to
Kernahan
), I felt to stop at the house and find out if we could lie in the hammocks for a while. My friend C thought I was bold-faced, but as we drew closer, we realised that the hammocks were already occupied and there were people liming and eating around them ... so we didn't end up stopping.
However ... yesterday I got my wish when I went with some friends to the Nariva Swamp. About 40 members of the Horticultural Society were going on an excursion to the swamp and we were tagging along at the invitation of my friend's father, who is a member of the group. Guess where we had to park to get the little boat that took us to Bush Bush island ... at
the house
. I got to lounge in one of the hammocks as we waited for the boat to pick us up.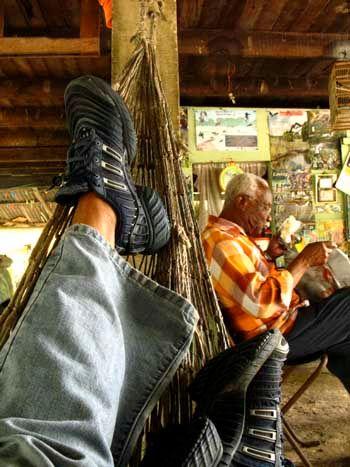 I enjoy my wish ... as one of the members of the Horticultural Society munches on his lunch in the background.

*
A few other shots from the day:
On the way to Nariva we stopped and had some roast corn in Grande
*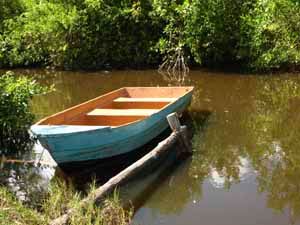 One of the two boats (in photo) was not working, so the boatman had to make several trips with only 15 people per load. We waited for ages, wondering if the boat, under the strain, would break down and leave us stranded on the island (Bush Bush).
*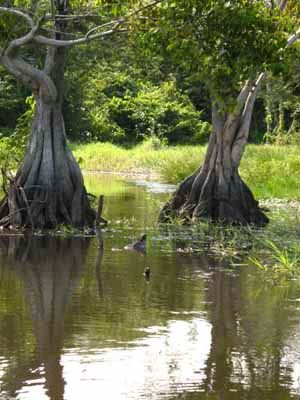 Side by side we stand, trees of the brown Nariva Swamp.
*
Once on Bush Bush island, apart from seeing a porcupine asleep in a tree, we came across a group of red howler monkeys. One of them, barely visible in this shot, sat on a high branch, staring fixedly at us. Just as the tour guide would tell us "Listen ... do you hear the monkey's howling?" ... this monkey perhaps told his friends "Listen ... do you hear the humans ooohing and aaaahing?".
*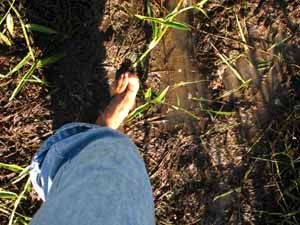 The tide was down when it was time to leave Bush Bush, so we had to walk through mud and bog (feet sinking beyond ankle length every now and then), to get to another point of entry for the boat (where the water was deeper). I took off my sneakers rather than get them full of mud, etc. Whilst walking in the forest, a large thorn had already gone up into my foot through the soles anyway, so barefoot didn't seem any less 'dangerous'.
*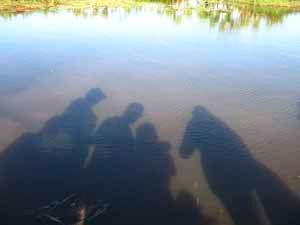 Waiting on Bush Bush island for the boat to pick us up. According to Meiling (age 7), the swamp is like "a large dirty pond with an island in it."
*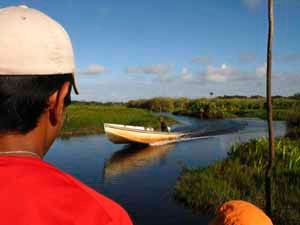 At last ... after a long wait ... boat ahoy!
*