Successful opening night
I was going to put up one of the Diva videos I did over the weekend, but I'll do that tomorrow and feature the opening night today. It went extremely well. Photographs and DVDs were selling like hotcakes, resulting in over $16,000 made last night. I will have to confirm the exact price, but it is in that vicinity. $6,000 worth of photos were pre-sold to individuals and companies who pledged to buy a piece each (even before the exhibit opened). On the night itself about ten photos sold (with each photo at $1,000). Add to this the sale of DVDs at $100 each and the donations placed in the
Happy Hippy Hero piggy bank
and we've got a good bit of money that is going towards the animals of W.O.R.C. In the next two days (today and tomorrow) that the exhibit is open to the general public, if we sell all 33 photos, we will have over $33,000 going to W.O.R.C.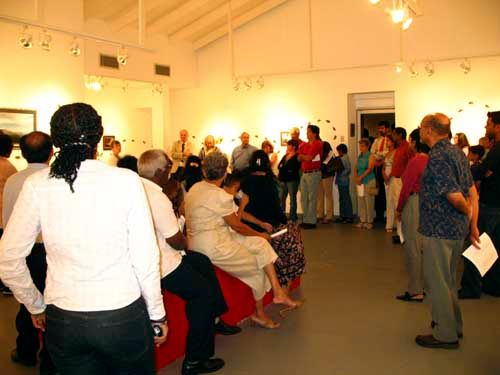 A section of the crowd listens to feature speaker, Professor John Cooper at the beginning of the night. More people arrived later. N.B. My parents: mum sitting in the creamish coloured dress. daddy standing in dark blue shirt holding catalogue behind him.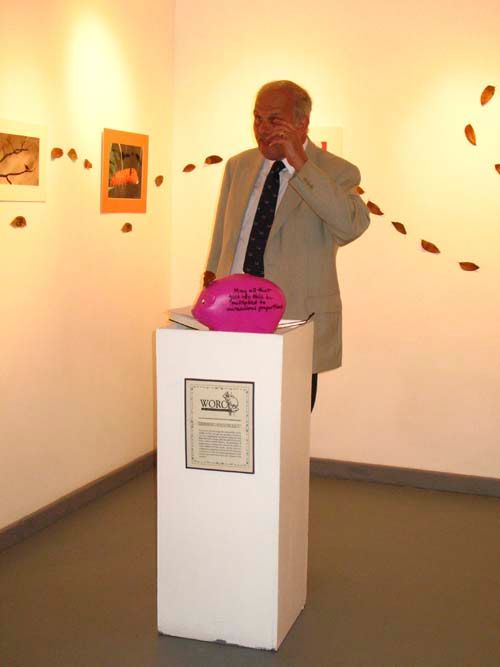 The Happy Hippy Hero pig had a prime position on the podium.
*
See here
for a few more photos which will give you a feel of the night. When you click on the photo it opens up larger and you get an explanation of what it's about.
*
For those who have not yet visited, the exhibition officially runs from today (03-06-06) to tomorrow (9:00 a.m. - 5:00 p.m. both days). See
here
for more details and directions to the gallery (a map).
*
Also see Page 31 and 32 of today's Trinidad Express for an article on the exhibition by Earline Andrews.
*