UNWELCOME!!!
Yesterday's
anti-smelter march
in the Southwestern Peninsula ended in a moving inter-religious ceremony on a site which would have to be cleared if the proposed Alcoa smelter ever got clearance. Religious leaders and representatives (Muslim, Christian, Hindu, Orisha, Open Bible) prayed not only for the area, but for the entire country and its confused leaders. As these speakers said, this is a spiritual fight, in God's hands ... not man's. (
click here to see some photos of the day
)
*
*
The Trinidad Express
also covers quite a few smelter issues ... from the march to Patrick saying the smelter will not harm south residents ... to the glowing promise of 'smelter to bring jobs for La Brea'.
*
Anyway ... back to yesterday ... The children of the Chatham area did their own version of the
A - Z concept
. This was organised by Fitz who, when he saw the display at the March 21st meeting at CCA7, admitted that it brought tears to his eyes. For some of the letters they used the same words I had used in the original version ... but for other letters they had different words (e.g. R is for Rash ... whereas I had R is for Ruined Health). It was endearing and powerful, wrong spelling and all:
Hearth Attack
,
Justics
,
Envoriment
, etc.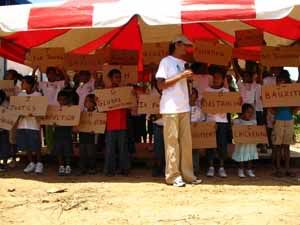 *
*
This shot shows some of the 26 letters created by people who responded to my e-mail to do an artistic representation of A - Z on brown paper. The alphabetical anti-smelter artwork embraced the room in which the anti-smelter meeting was held (CCA7).
*
*
This one, created by Nicola, was a favourite. She depicted the letter U (which was eventually changed to UNWELCOME - instead of Union Village already ravaged). In this piece, a furry, rabid-looking dog (made with fur which she purchased from Samaroos Carnival supply shop) sinks its blood covered jaws into a leg which has SMELTER written on it.
Yes, you are UNWELCOME ... ALCOA!
*
Tomorrow I will feature the video version of the Anti-smelter alphabet which was launched at that meeting.
*