Messages in stone
Something I do every now and then is 'read rocks'. Just like reading cards or reading palms, only each rock that is chosen has a message which is written by the oracle of Nature.
See example here
. Sometimes aspects of the answers may seem very clear, sometimes they may come across as 'cryptic', but they sink in gradually and make sense in ways that are not always logical. They offer guidance.
*
(from a rock in my new batch collected over the weekend at Balandra):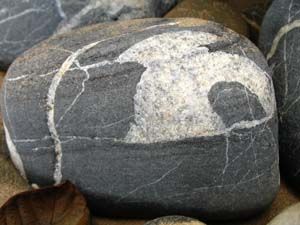 You are being called in a particular direction. Don't look with your two eyes. See with your one Eye and you will be able to rise above and beyond the surface of that which you are currently trying to understand or put into logical terms. Be aware of a particular structure/building along a straight, wide road - near to water (small or large - e.g. river, fountain, pond, noticeable birdbath, large drain/canal, ocean, etc.). This place will stand out for you on account of its entrance ... something about the steps and/or the kind of pathway that leads up to it will be very striking. Energy-wise, it is a healing place. How can something so 'heavy' be so 'light'? (How did Jesus walk on water?) You will be drawn inwards - something is in there for you. Go in. Words in association: grounding, imagination, native, visionary, Mary, water.
*
P.S. I have not forgotten about the
mint messages
. I will attempt to get the story within the next week or so and will post it when I do.
*