A moving experience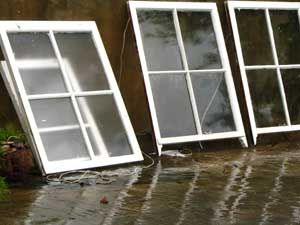 Lined up in the front yard after our washing (they were washed by me-with-hose ... and the rain washed us both while I was doing it).
*
Yesterday I washed my windows in preparation for the 'move'. A few days ago I had the sudden feeling to rent an art studio at CCA7. I acted on it swiftly by finding out if one was available. Studio #2 was available, 'for two months'. I said I would think about it, wondering if it made sense, since by the time I settled, it would be time to leave. After some (brief) thought, I decided to go for it even though it was two months ... only to find out I could have it until the end of the year (and maybe longer? We'll see how it goes). At any rate, enough time to accomplish 'my mission', whatever it is. I will know as time passes and it unfolds.
A friend will be coming at midday with her station wagon to help me move the seven windows (not all featured in above photo) from 'here' to 'there' ... where I will officially begin working on Serendipity ...(N.B. Serendipity has her two panes again, just in time for entering Studio 2 ... synchronicity).

Looking back, it's as if Diva's launch was the end of one phase and the beginning of another. As soon as Diva had cleared the way, Serendipity stepped in and started pulling things together in suddenly surprising ways, like a little cosmic spider, aware of everything that needs to be as it is ... and making it so through Divine timing and the placement of essentials.

*
Labels: window lamps