My name is JUS COOL
(This is the 3rd interview in the series. If you have missed any of the previous interviews and would like to experience them, click on the introductory entry entitled "My name is ..." under PREVIOUS POSTS to the right of this column).
It was Saturday, the day after I'd spoken to Earth Angel. I left home at about 6:00 a.m. with camera and dictaphone and headed into Port of Spain by maxi along the bus route. My intention was to see who and what I could find amongst the red band maxis at the City Gate stand. As soon as I arrived there, however, something pulled me away and guided me towards the yellow bands on South Quay.

Going with the flow was the best thing to do at that moment (as Trendsetter would agree), because the yellow band maxi drivers turned out to be so willing to be a part of this that after the first two interviews I didn't have to ask them to be interviewed. They were offering ...

This first interview was with driver Walter Modeste. His maxi was the first in the line up as I walked onto the compound. Thankfully the temperature of the early morning was in keeping with the maxi's name and I didn't find myself sweltering in hot midday sun ...


Happy Hippy: Did you come up with the name Original Jus Cool?

WM: No I did not. The owner did.

HH: How often do you drive the maxi?

WM: Six days a week.

HH: As the driver, what do you feel the name means to you and to people who come into the maxi?

WM: Well Jus Cool ... it would mean to me that the maxi is Jus Cool (chuckles) ... and also de driver.

HH: Why is it that people put names on maxis?

WM: Sometimes to identify the maxi ... one. And for the safety of the passengers too.

HH: How is that safety for the passengers?

WM: They take a maxi ... and if they lost and found property, they could say well this morning I travel in Jus Cool. They mightn't know de number, but dey know is Jus Cool dey travellin' in.

HH: Okay, I never thought about that.

WM: They could easily find their stuff.

HH: Thank you!
(Interview transcribed as is from dictaphone)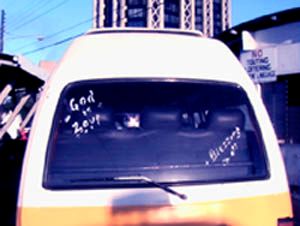 Messages on back of Jus Cool:
Tomorrow: She is young ... but is she restless?

- Happy Hippy -