Since I am not Prime Minister of TT
... and neither are you (unless Patrick Manning is reading this), I have adjusted
the original question
(asked by a reader) so that it can be answered in a more realistic way.
What steps will I/you/we put in place to deal with issues affecting our island?
*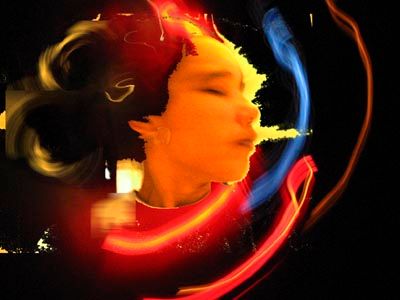 (The new idea swirls in and around interviewer/interviewee: Elspeth Duncan)
*
The first step for me is my current willingness to go with the flow and proceed with a very simple idea that the original question stirred up in me. This idea is not yet fully "formed" and I won't limit it by saying what it 'must' or 'will' be at this stage. It will evolve naturally, finding form and greater meaning through the different 'steps' that will come into place over time.
*
Once these 'steps' are put in place, will issues affecting our island be dealt with?
Even if certain steps are put in place, issues will not be dealt with unless there is individual and collective willingness (to contribute to a necessary process of positive transformation), commitment (to this process through the means each step can provide), support (for each step/each other) and belief (in ourselves, each other and a Higher Power).
*
What are the issues affecting our island?
Every single one of us in TT is "an issue affecting our island".
On the most basic level, when we project negative thoughts or feelings or give in to frustration, fear, lack of respect, ignorance, laziness, carelessness, hopelessness, greed, envy, excess (and so on) ... we are 'affecting our island'.
*
How can we deal with these 'issues'?
By realising that each one of us is an answer and acting upon that realisation.
*
I have chosen to live my life as an artist, to use my 'tools' (concepts, words, music, photography and video) to stimulate awareness, provoke thought, shift perspectives, inspire, empower and uplift (both myself and others) whenever and however I can.
*
To begin.
*
(Stay tuned for the upcoming steps -
starting officially on Monday 16 January, 2006)
*