One handed driving shots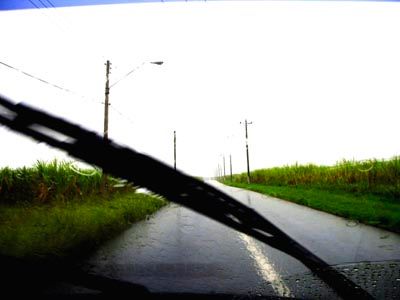 Here comes the rain again,
Falling on my car like a memory,
Falling on my car like a new emotion
My main reason for getting my new digital camera -
Canon A620 Powershot
(christened "Love Bee") - is that it's small enough for me to carry everywhere and, being 'point and shoot' with manual capabilities, it gives me the option of either just pointing and shooting or 'composing' a shot by fixing my own exposure, etc. instead of just being totally manual. (Still not the same as using my regular Pentax film camera, but I like it for what it is and what it can do - much of which I am yet to explore and discover). Previously, for digital stills, I was using my video camera (which also has digital still capabilities), but is too bulky to carry around wherever I go and requires me to use both hands for operation. Love Bee allows me to do things like drive with one hand and take pictures with the other hand without having to look too long (if at all) at my subject(s).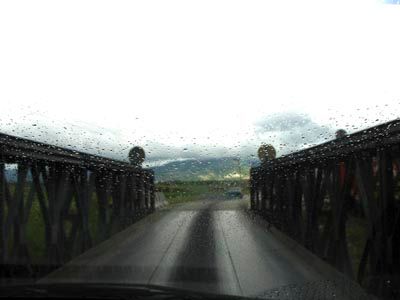 Like a bridge over Caroni River,
Yesterday on my way to and from a meeting in Chaguanas, I held the camera up as I drove, randomly snapping as I drove past people, places and things. I'm beginning to feel like one of those parents obsessed with taking photos of everything their new baby does (e.g.
Johnny touching a leaf for the first time
) ...
*