Extra, extra
Read all about it: the new initiative known as
the pancollective
. This is the brainchild of
chookooloonks
, otherwise known as Karen Walrond. About two weeks ago I got an e-mail from her inviting me to be one of the women in the collective ... but due to my computer being away, I didn't get around to writing anything for the collective's blog until about two nights ago. For more on what the pancollective actually is and who the current members are,
go here
. A small gathering of women from different Caribbean islands writing at least 3 times a week on their/our different (positive/solution-based) experiences of living in this region.
It's an approximately 2-3-week old venture which will evolve over time (as all things do). In a way this is making me try and figure out within myself what 'living in the Caribbean' actually means (to me), since I've never really associated myself with 'belonging' to a particular geographical place ... at least not consciously. So it will be interesting to explore that aspect and to begin to define what it means (to me) to have the Caribbean as 'home'. Hmmm. I think many people who were born here claim it is 'in their blood' and 'in their bones' (Trini to de bone, etc.) I don't know that I feel that. But maybe I do ... in a different way? I don't know ...
Anyway, the first thing I wrote about at the pancollective was Tairico/Tyrico Bay (simply because I'd been there the day before with my old friend Patti) on a spontaneous jaunt and was reminded of what a humble and magical little beach it is.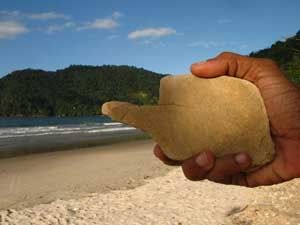 This interesting stone I found on Tyrico reminded me of a hand with its index finger firmly pointing in a very definite direction. When I found it (or when it found me) it was pointing up at me from the sand and saying "Pick me up." I decided to keep it, seeing it as (i) a symbol of my own direction in life becoming more defined and (ii) confirmation that a Divine hand will always guide me along the right path.