End of the Rainbow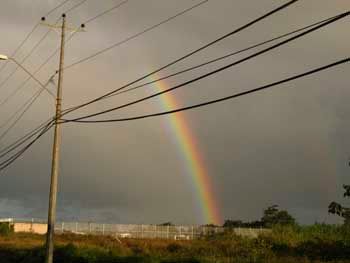 This rainbow led me to my destination yesterday. It was visible to me from the time I left home in St. Augustine to the time I reached Sangre Grande about an hour later. It was always before me as I drove, like a companion, getting brighter and bigger the closer I reached to my destination: North Eastern College. This photo shows the fence as I approached the school. The Rainbow seems to be saying: "Here is where you enter ..."
A friend of mine who is a
Brahma Kumari
invited me to a function yesterday called "Flame of Hope" in the auditorium of North Eastern College,
Sangre Grande
. The 2 and a half hour programme consisted of performances (dancing and singing), followed by a speech about "Hope". The speaker ended by taking the audience through a guided meditation, during which I drifted to sleep - but woke feeling peaceful. Hopefully not
too
peaceful for the long drive back home, I thought.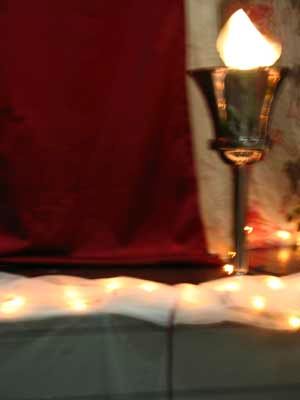 A rather blurry rendition of one of the two Flames of Hope that were on the front corners of the large auditorium stage. This flame was silver. The other was golden.
*
After the function we were each given little boxes (containing a square of cake), little bags (containing mixed nuts, etc.), a soft drink and a little square card with a message on it. The latter reminded me of my Post Its. The message I got was: You reflect back to others the brilliance of their own potential.
*
A peaceful way to spend an evening into night ... at the end of a rainbow.
*
P.S. For those in Trinidad, tune in to Gayelle TV tomorrow (Hototo programme) at 11 a.m. I will be talking about the All Creatures Great and Small exhibition and Detta Buch will be talking about W.O.R.C..
*
Elspeth