Applying Bandages (video)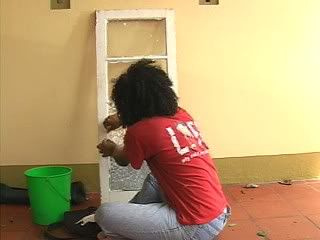 Working on the back of the lamp in the garage.
Because of the age of some windows, there will be areas around the glass where weakened putty has chipped and fallen off. On my earlier window lamps I used to use putty or wood filler to re-seal the spaces. Now I apply Plaster of Paris bandages to these areas - to fill and strengthen them so that the glass is more securely held. It also serves a cosmetic purpose - filling up holes with a rough, interesting plaster-texture finish. Once it dries I usually apply paint to the wood and plaster, making them one.
On a symbolic level, the bandages feel like they have more to do with 'healing' than putty does. When applying the bandages, I feel as though anything that is 'imbalanced' or 'broken' on an energetic level is being fixed. Every step of the making of each lamp is isymbolic, but going into full explanations would be quite lengthy. By watching these short videos perhaps you will glean your own personal symbolic meanings from each stage of the process.
Labels: window lamps