Diva
The other day my friend Gab made a comment about the 'famous window' (which I'm making for her and her b.f.). She said it's turning out to be such a diva, appearing in videos, on the internet, showing off its different stages to the public, etc. I didn't think of it that way before, but it's true ...
So I was chuckling yesterday when my friend Rose (who I worked with in England in December) came over. She's here for Carnival and, while she's here, she will interview me and two other people (she is gathering material for a programme on creative people in other countries and the work they do). She brought her camera along yesterday, to film and interview me on the topic of my work. When she had asked me what I was working on these days and I mentioned the window (as one of the things), she asked if we could talk about that ... and if we could do it somewhere with a nice view. The first place that came to mind was
Mount St. Benedict
, so I put the window to recline in the front seat (that's the only way the medium or large windows fit in the car properly) and we drove up the hill. That's when I remembered Gab's comment ...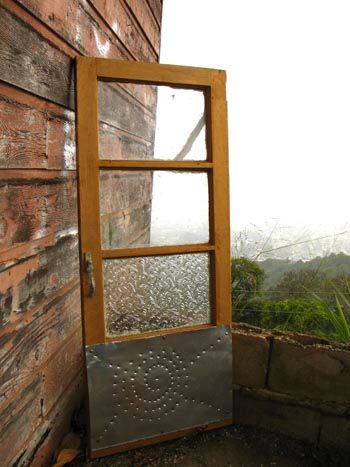 The Diva strikes a pose against an old shed up at the Mount,
overlooking her island home which is
shrouded in a white mist of rain.
As we got up to the monastery, a huge grey mist passed over us, bringing rain ... so the interview never got started. We stood for a while in the drizzle before deciding to drive around and look for another location. We ended up by the river in
Lopinot
, which was beautiful as usual (despite being spotted with bits of garbage, some of which we picked up and put in the bins provided). Within about ten minutes of being in the river
it started to rain again
... so thoughts of doing the interview there were also aborted. I didn't even bother to take the Diva out of the car.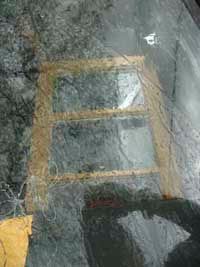 Seen through the rain-splattered windscreen at Lopinot:
the Diva reclines in the front seat of my car
Elspeth
Labels: window lamps