Sleepless in St. Augustine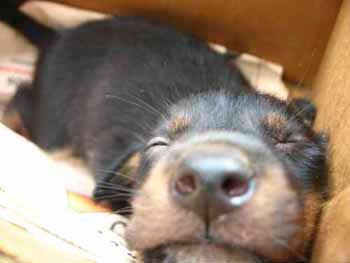 I suppose because this little puppy (christened Bongo J) slept all day, he had no need to sleep at night. His high pitched screams were virtually constant, punctuated by brief moments of sleep (perhaps exhausted from his own howling). It is now 5:00 a.m. and he is quiet, only because I have him here by my feet, tail wagging non-stop. I am keeping him overnight for a woman who wants him.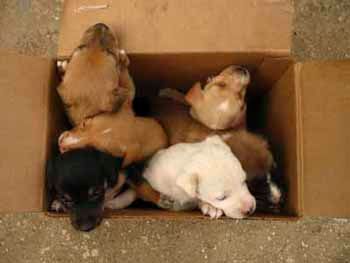 These are Bongo J and his five sisters in the box they were placed in upon being gathered. I found them yesterday in Felicity, Chaguanas, near to the mangrove, which was become a dumping ground for humans with rubbish to discard. The sight (and site) is deplorable. These poor puppies had been dumped- and perhaps recently, as they still smelt of puppy milk, were clean and soft and were very gentle and loving (compared to a puppy who may have been born in the wild). When I found them they were surrounded by human garbage, some hiding under an old rusty appliance, being fed roti by a man who (when I said I would take them to TSPCA) told me: "Dey eh have nowhere in dis country dat could care for animal! Only in de United States of America! De Prime Minister of dis country can't even take care of de people and you want to take care of animal?!" (Quiet steups, walk off shaking head).
*
Of course I took them to the TSPCA, where the five sisters now are (since Bongo J has a home already). The girl at TSPCA estimates they are about 5 weeks old. They can lap and eat solids. I have sent out an e-mail with photos of the pups to my friends. Hopefully between that and the TSPCA's regular walk-in visitors, the other 5 pups will find good homes. If you, reading this, are in TT and want a pup or know of someone who does, go to TSPCA and ask to see the 5 pups dropped off on 9th March, 2006 by E. Duncan. You won't regret it.
*
Click here to see close up shots of Bongo J's sisters
... and take your pick. (Click on the photos to see enlarged versions and descriptions).
*
Thanks.
*
Elspeth