Prizegiving
Yesterday evening
Tracy J
, one of the
Poets of the Lamp
, received his Diva Kit in an intimate, spontaneous, picnic-type ceremony up on Mount St. Benedict. The event was attended by a small gathering: Tracy J, his mother (Buddha), myself ... and of course the spirit of Diva.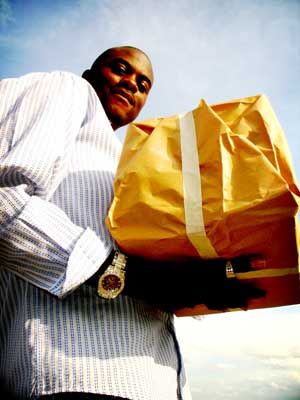 Tracy J with his Diva Kit
Tracy J was literally on top of the world (the Mount is a few thousand feet above ground and overlooks a large expanse of the south, west and east of Trinidad) as the precious package was placed into his hands. Given the kind of spunky and spontaneous person that he is, he will no doubt be making good use of the contents of his kit. Later on we will be hearing about his Diva Kit 'adventures' on this blog.
*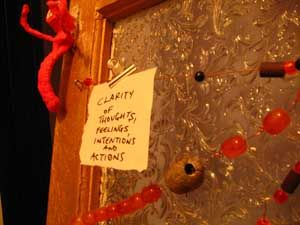 In other Diva news, I put a message on Diva's
web-line
last night so that it would manifest. The lamp light is really supposed to be behind it, to quicken the manifestation ... so I have to get moving on setting up Diva's electrical supply soon. Just a few more steps and Dear Diva will be complete. And speaking of Dear Diva, don't forget that she is ready and willing to
answer your questions
.
*
Labels: window lamps