Lights
Yesterday's
Prayer Vigil Marathon
, organised by the people of the Southwestern Peninsula: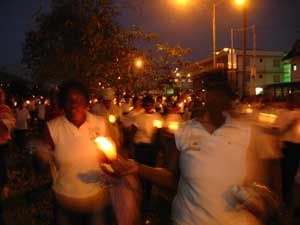 Holding candles which were shielded from the wind by styrotex cups, the crowd walked from the savannah across the road from All Saints Church and the American Embassy to White Hall.
The crowd stood in front of the White Hall with candles in the air, as Part 2 of the Prayer Vigil marathon took place. Prayer Vigil Batons (a special prayer cylindrically rolled on paper and tied with ribbon) were passed to leaders of different communities from across the island (who were present).
*