Moved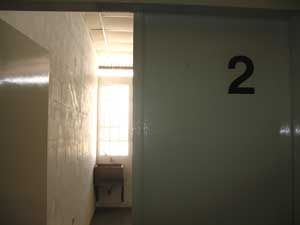 *
Yesterday I got a good workout, carrying each window one by one up the flight of stairs leading up to the building and then one by one to lean up on the wall in the hallway just outside of Studio 2.
Some of the windows leaning up in the hallway
Prior to bringing them into the new space, my friend Rosanna and I swept and mopped the room, lit incense and smudged with a
smudge stick
that she had brought along for further cleansing. I will get some white paint and we will paint over the walls and some grey floor paint to do over the floor (which naturally has various paint stains from other artists gone by) ... to give the place the newer, starker appearance of a 'new beginning'.
There is one window in the studio ... and it struck me that I was bringing in more windows ... each with a different kind of 'view' waiting to be created. Being all white with a space between the wall and the roof, the room has enough light coming in to make it feel airy - and the ceiling fan seems to do a good job of keeping the place cool.
When I got home, there was a letter waiting for me. It was a letter from the United States with a cheque for
Serendipity
. Interesting, as this was the first window I took up the steps into the gallery and will be the first window I begin working on.
*
Labels: window lamps