Do you?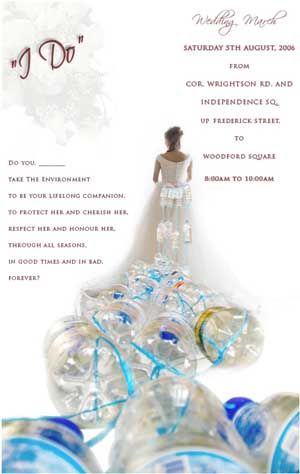 All who are interested in coming along to
I DO
tomorrow ... we will start gathering at the end of Brian Lara Promenade (corner of Wrightson Road) from about 7:30 p.m. The 'bridal procession' will begin at 8:00. Along the way, the 'Environmental vow' will be read to random members of the public who, upon saying "I do" and making their lifelong commitment to the bride (who represents the Environment), will get a green band tied around their hands and get the opportunity to cut a bottle from her wedding trail (and place it in a garbage bag to be recycled), thereby freeing her from the rampant strangulation of garbage we humans carelessly inflict upon her.
We will follow the bride along the B.L. Promenade to the roundabout by KFC then, instead of going up Frederick Street (the Constable said we can't), we will go up Abercromby Street to Woodford Square ... by which time the Environment should be completely free of bottles.
*