The time has come again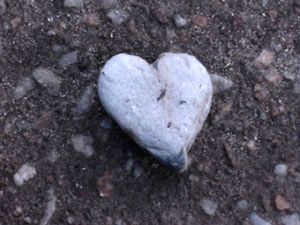 Stone found in friend's driveway about 3 or 4 years ago
There are people all around us who are doing positive, progressive and meaningful work. These people (sometimes unseen, unnoticed or hardly recognised) should be upheld, supported and celebrated. They work from their hearts. Very often these 'heart-workers' struggle to acquire funds to assist them with their cause ... and/or they resort to 'self-funding' (money from their own pockets) to keep going. Many of these people will say that there are times when they have been tempted to give up. But thankfully, their love for and belief in what they do gives them the strength to continue ...
We all know people who work from the heart and play an important role by setting great examples in this often (seemingly) "example-less"world ...
Tune in tomorrow and be a part of the HHHA 2006!