Never understimate the power of a snail
(First, our HHHA2006 update for the day):
Yesterday morning a small crew from Gayelle TV joined me in the back yard of last year's recipient of the
Happy Hippy Hero's Award
: Detta Buch. First, I was asked about the Awards in general, then Detta was asked to speak about her operations at the
Wildlife Orphanage and Rehabilitation Centre
and her status as the first ever recipient of a Happy Hippy Hero's Award. To nominate your Hero, click on the Happy Hippy Hero logo (on the right hand sidebar of this page) to access submission form and further details.
There must be a quiet and unknown power in snails. A comment left on
yeterday's post
by Guanaguanare made me think about it.
The message I get from snails is that they move quietly and slowly, most likely experiencing everything around them with infinite depth and intelligence. They also suggest: "Be at home wherever you go." (They carry their homes with them). To be at home always requires a confidence and sureness in self. Everything that they have and all that they are is within them. Some may look at the slowness of snails as an inferior thing, but think about it: how many people can move slowly and feel comfortable in the modern world? Everything is fast and there's the general feeling that 'something is missing' or 'something else has to be done' if things are moving too slowly. Slowness is mastery.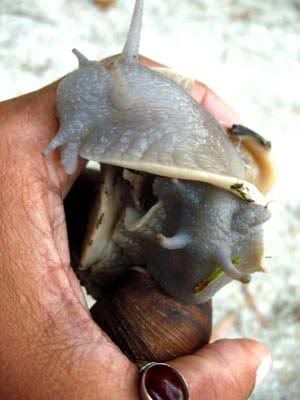 In Capoeira class whenever we move too fast, we are reminded that the real art and strength is in being able to do the moves slowly. Doing things quickly (in general) is sometimes easier. In quickness, one can gloss over the surface and move on without having experienced fully. In moving slowly, you must get into the act or the moment.
Be slowly and fully in every moment.
Experience.
Be at home in yourself.
You are protected.