And the winner is ...
*
Today I went to present the award to the
Happy Hippy Hero 2006
. It was a moving , heartwarming and even tear-filled occasion. Having finally met her, I agree that she definitely is a Hero. Listening to her talk and feeling the warmth vibrating through her home, I wondered how I would put 'her' into words for those who are awaiting news of the winner. However, while chatting (with me and the friend who had accompanied me), she shared a beautiful original poem she had written as a 'goodbye' to her 'children' (when she had thought she was retiring). The poem says it all about the 2006 HAPPY HIPPY HERO ... so I asked her permission to use it as a description of who she is.
*
Although I am not your Mother - I care for you each day
I cuddle, sing and read to you - and watch you as you play
I see each new accomplishment - I help you grow and learn
I understand your language - and I listen with concern
You come to me for comfort - and I kiss away your tears
You proudly show your toys to me - and I give them loud cheers
No, I am not your mother - but my role is just as strong
I nurture you and keep you safe - though maybe not for long
I knew someday the time would come - when we would have to part
But each child that I cared for - is forever in my heart
I gave birth to only two kids - my darling lovely Lisa & Ian
To some I'm Mama, sometimes Aunty Cathy - and to others the quiet, loving
Catherine Chadee, Always!
(A Departure Note; written by Catherine Chadee, 2004)
*
*
Proudly presenting the HAPPY HIPPY HERO 2006:
Catherine Chadee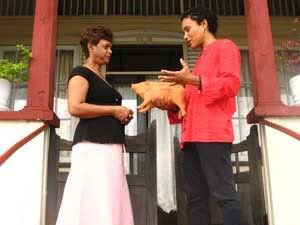 Explaining the quenk trophy to 'Aunty Cathy' on her front steps.
(Photos by Keshia Abraham)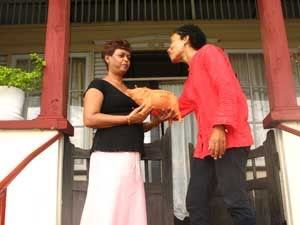 Kissing the hero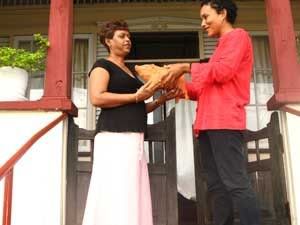 She received the trophy, a cheque from Happy Hippy Productions and a hamper of organic foods kindly donated by Gillian Goddard of Sun Eaters.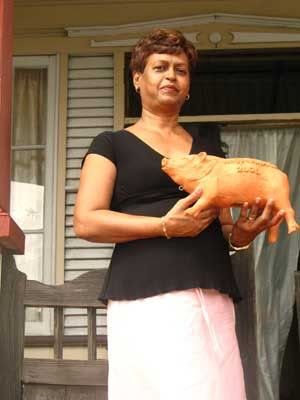 Congratulations, Cathy! Welcome to the Happy Hippy Hall of Fame.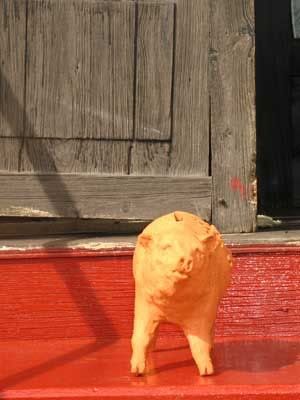 To
the other nominees
: Akilah, Emma, Kay and Patricia - thank you for the great work you are doing for our communities and our country and for the meaningful ways in which you touch people's lives every day. Several people who have read the summary of who the nominees are have made a similar comment: "Each nominee is so impressive that they all deserve to win!"
I take this opportunity to extend to you the blessing that is etched on the side of the clay quenk:
MAY ALL THAT GOES INTO THIS BE MULTIPLIED TO MIRACULOU S PROPORTIONS.
As I explained to Cathy, that doesn't only refer to what goes into the piggy bank trophy ... it refers to the powerful energy each one of you puts into her work. May that valuable and heartfelt energy be multiplied miraculously and return to you infinitely.
With thanks,
Elspeth
Founder/Creative Director
HAPPY HIPPY PRODUCTIONS