Tomorrow you will know ... and Sunflower update
Today I will be going to present the
winner of the HHHA2006
with her award, so you will know by tomorrow who
she is
. No more anticipating.
And for those who want to know what happened to
Sunflower
: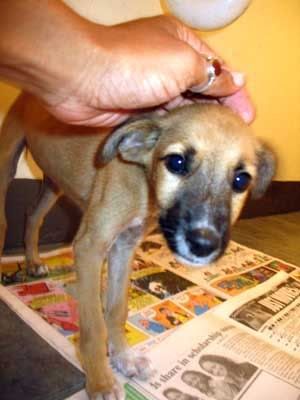 I dropped her off safely at the T&TSPCA yesterday morning. She slept all the way down in the car, now and then waking up to yawn, stretch and make small canine noises.
At the T&TSPCA the girl rolled her eyes and told me tons of people were bringing in puppies, but luckily adoptions are also high. The day before, ten puppies had been adopted. Sunflower will have her own little card, so when her eager 'adopter' goes to get her, s/he can simply ask for "Sunflower" in order to receive the little bundle. I left my donation (you have to leave money towards the animal whenever you drop one off) and Sun will be vaccinated, wormed and Frontlined.
Puppies have six months in which they are to be adopted and then ... let's not think about that. Sunflower is cute. Someone will take her to their home.
The T&TSPCA attendant told me of a girl who had called in that day to say that her dog had had pups the day before and her father had told her to get rid of them! What kind of madness is that?! how can you 'get rid' of day old pups? If you don't want puppies or kittens, have your pet spayed or neutered.