Finally!
Sorry for the delay, folks ...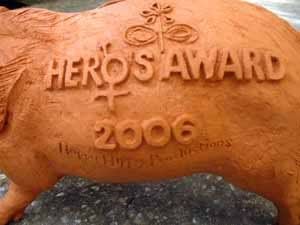 Today at 6 p.m.,
the judges
will be meeting to go over the interviews they did with the nominees and their references (two each). The results of the
Happy Hippy Hero's Award 2006
will therefore be announced during the course of next week ... just in time for Christmas.
The judging process has not been easy since
each one
of the five nominees is a wonderful woman doing great work. (Interesting that all submissions were for female nominees). Also, the actual judging process has been a learning one which took some time as we tried to iron out certain 'bumps'. This is good. We can only learn by trying, noting whatever problems arise, making whatever 'mistakes' are to be made and finding ways to address everything in a tighter way the next time around.
Which one of the below nominees will win this year's prestigious
clay quenk trophy
(made by last year's winner,
Detta Buch
)?
Catherine Chadee
(Child Care)
Akila Jaram
ogi
(Environment)
Kay Narinesingh
(Community Service)
Patricia Roe
(Dance Education)
Emma Sloaneseale
(Social Work)
Stay tuned to
Now is Wow
and you will find out!