My name is ELIJAH CHARIOT
Reuben Simon had seen me interviewing Jus Cool and Annie Juvenile and, when I was finished with the latter, he called me across to see the artwork on his maxi, Elijah Chariot. He gently explained the philosophy behind his maxi's name and message - both of which are printed on the back of the maxi and not on the front - for reasons that will be revealed later on in this interview. As he went on explaining, I became more aware of the added benefits of naming one's maxi ...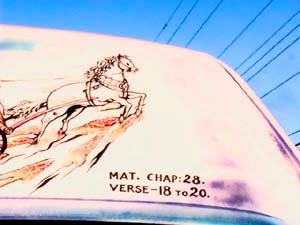 Back top right side view of the Chariot

Happy Hippy: Explain to me the message on the back of your maxi and why you put it there.

Reuben Simon: I put it there to remind people about God. You understand? When you think about Elijah, you know he go up on a chariot with fire ... y'understand? It represents to the Church the Holy Spirit ... that when Christ come to rapture people from the earth, those who are born again, those who living for Him ... he say those who die in Christ shall rise first and those who alive shall change in the twinkle of an eye.

HH: Okay ... but ... so you prefer to have it in the back? (moving around to look at front) Oh, you have it on the glass in front? (... and realising it's not on the front)

RS: Yes! But no ... it did break! I have to put it back just now.

HH: Okay.

RS: Yes.

HH: I'm really wondering about all these names.

RS: I is one of de oldest maxi taxi out here and when you have a name on de maxi den de people could see you from a way off. Dey will know well look, dat is Elijah Chariot, dat is dis one and dat one before looking at de number plate! So den if any crime commit ... all de people have to say: I was in Elijah Chariot ... or I was in dis one or dat one. So de police eh want to know ... well, people doh look at numbers. Elijah Chariot! They will find you now fuh now.

HH: Right!

RS: Y'unnerstand! That was the reason we have it before. Because dey was to stop it once, you know ... de Government. So de police and us use to, you know, have meeting in de St. James Police Station. They use to call maxi taxi to find out what's this ... and de police and de drivers used to live together that time. De police would work towards what wrong and so forth and so forth. You know dey did want to move it a time and we say no, the passenger know us by dat. If crime commit, the quickest thing to say is "Elijah Chariot!" This is de reason we have it and it still on.

HH: Okay, thanks a lot!
(All interviews transcribed directly from dictaphone)
Stay tuned! The next maxi knows how to make life easier ...

- Happy Hippy -
Back top left side artwork on the Chariot