Twin Tapes: Transcription #2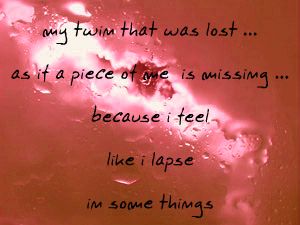 I continue to explore what this statement means to random people ...
*
Respondent: Adult male
Location: Lopinot
*
(Transcribed from dictaphone)
ADULT MALE:
You lapse in yuh companion, seeing that yuh twin was lost. So you have no companion again.
(Pause ...)
HAPPY HIPPY:
That's it?
AM:
Yes.
HH:
What colour comes to your mind when you hear the phrase ... (reads the phrase) ? If you had to give a colour to that, what would it be?
ADULT FEMALE in background (who the man washing the car said would answer):
Black. Black is a kind of mournful colour.
HH:
You think it's a mournful thing?
AF
: Is a sad thing. Black represents something sad.
AM (after some time):
I would say red.
HH:
Red ...
AM:
Yeah, de red. De red dat was lost dat have yuh missing someting. De red.
HH:
The red ... the life?
AM:
De red was ... how yuh say ... Now he was born a twin and you miss yuh partner ... it was de red dat took him away. De blood. Yeah.
*
Tomorrow: A woman in her golden years offers her perspective ...
*
And if you haven't said it already,
what does it mean to you?