Quelling Curiosity
Some people have been trying to guess who the recipient of the
first annual Happy Hippy Hero(ine)'s Award
could be. Be patient. The information will be revealed on Monday, bright and early.
*
Re
Joanne's comment
yesterday
about the use of the words 'Hero' or 'Heroine'
... Thanks. I hear what you are saying. I myself wondered if to just put 'Hero' ... but then I decided to put both - as in "Hero(ine)'s Award. In doing so I found it looked a bit sloppy to have the (ine) part in brackets ... but this is all part of the refining of the award.
Hero
can indeed be applied to both male and female. Maybe what I will do, when I design the 'logo' for it, I'll put an arrow and a cross coming from the
O
of HERO, so the male and female will be represented visually in a word traditionally seen as 'male'. I hereby rename the award: the Happy Hippy Hero's Award (with visually unisex
O
).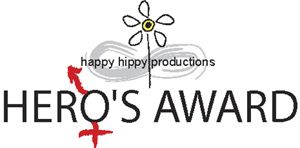 A rough example/work in progress - along the lines of what the logo could be.
Some may be wondering what the awardee will be receiving from Happy Hippy Productions. The HERO (with unisex O) will receive:
1. A financial donation from HHP (towards work being done) ... along with a prayer that the amount given will be multiplied further within the next year, thereby enabling the greater work that needs to be done.
2. A special commemorative item.
*
Stay tuned ...
*
P.S. Yesterday I went driving with some friends and took a few shots of people awaiting the TT Soca Warriors along the East-West corridor. Those of you who are interested can find them